I'm all for government stimulus to get the economy moving again, but
this number is eye-popping
.
The deficit, Mark

Zandi

,
chief economist
and co-founder of Moody's
Economy.com
, said at Senate Budget Committee hearings last week, "could easily exceed $1 trillion in fiscal 2009 and go even higher in 2010." He said borrowing by the Treasury could top $2 trillion this year....
The debt, which stood at about $5.7 trillion in 2007, topped the $10 trillion mark in October and now stands at about $10.6 trillion.
(Actually, I think he means $5.7 trillion in 2001, at least according to
this graph
. Note that the graph only goes to 2007. For 2008, it's going to be off the charts.).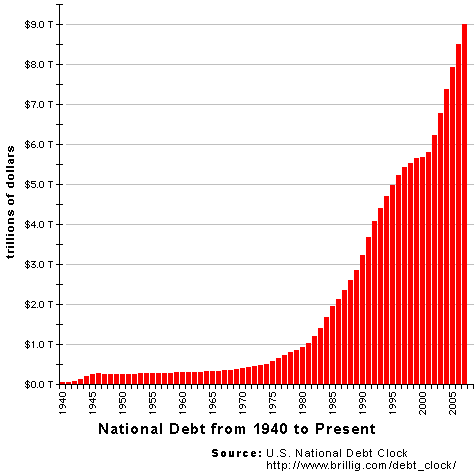 So to put this in perspective: Clinton had three years of budget
surpluses
his last three years in office, including giving Bush a $127 billion
surplus
.
Bush is giving Obama a trillion dollar deficit.
Talk about binging on your credit cards....